2023 - 2024 Registration is Open!
Registration for the 23-24 school year is open through
January 31 at 12 pm.
Registration materials are now available on the Enrollment webpage.
Sign up for an in-person tour here »
---
Why CCK?
Preparing the smallest hands to hold the future.
Welcome to Christ Church Preschool and Kindergarten, where every day is an adventure in learning and exploring for our students. Since 1963, our half-day program has set the benchmark in our community for the highest standards in early childhood education within a Christian environment full of love and support.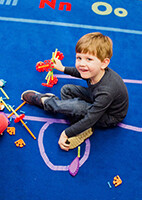 Christ Church Preschool and Kindergarten (CCK) is half-day program that emboldens each student to develop socially, emotionally, intellectually, physically and spiritually. Children ages 12 months through Kindergarten are encouraged to be active participants in their learning by exploring their abilities, expressing ideas and developing friendships.
Our superlative CCK teaching staff is dedicated to enriching each student's unique sense of self by maintaining a holistic nurturing and supportive learning environment where students are encouraged to play to learn. CCK's Music, Science, Chapel, Creative Movement, Christian Education and Learning Center enrichment programs work in conjunction with classroom curriculum to broaden students' exposure to the greater world around them and enhance the classroom experience. Our average annual enrollment is comprised of over 200 students with both a teacher and assistant teacher allocated to each classroom.
Bound by a commitment to foster a lifelong love of learning, CCK works in close partnership with parents to facilitate communication among parents, teachers and administrators. CCK has an inclusive and respectful environment where diversity in culture, religion, race, gender and ability are welcomed.
Mission Statement
To cultivate our children's unique gifts and talents and to inspire lives of learning, serving others and loving God.
Vision Statement
Our children's lives will inspire a sense of community, compassion, and love of God.
Children's Creed
I believe in God above.
I believe in Jesus' love.
I believe His Spirit, too,
Comes to teach me what to do.