Easter Memorials
A Beautiful Christ Church Tradition
Every Easter, we adorn our spiritual home with Easter lilies in loving memory of those who have passed away, and in thanksgiving for special people in our lives.
To participate in this time-honored tradition, please click here to order online, OR print this form and return it with your payment by Friday, March 24, 2023.
Suggested amount per memorial is $40. Memorials will be printed in the Easter service bulletin.
---
A gift to Christ Church is an excellent way to honor a faith-filled life.
Gifts of any amount can be made in memory of someone who has died, or in honor of a person who continues to live a life grounded in faith. We will gratefully acknowledge your thoughtful donation by notifying the person or family member you designate (no gift amount is disclosed).

Memorial and honorary gifts to Christ Church are used to improve and maintain the entire Church campus, including both inside the buildings as well as the surrounding gardens. These gifts are also used to purchase sacramental items, which allow Christ Church to serve the parish and the city of Charlotte in a warm and welcoming environment.

Gifts of altar flowers can be given in memory of someone who has died or in thanksgiving for an occasion of celebration. Altar flower gifts are recognized in the bulletin on the weekend of their placement.

We are grateful to those individuals and families who include Christ Church as a recipient of memorial gifts at the time of death. For additional details, or specific obituary wording, please contact the Stewardship Office.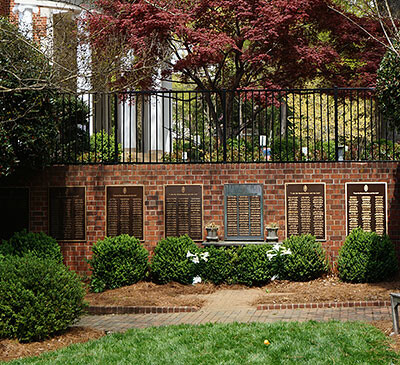 Over the years we have received many thoughtful gifts made in honor of a family member or a fellow parishioner whose love for or dedication to a special worship service, mission or ministry was the inspiration for the memorial itself.
A Sterling Devotion
Ann Sellers dedicated 36 years to Christ Church's Altar Guild, training hundreds of volunteers and spending countless hours polishing silver and brass in the sacristy. During those same 36 years, Bob Sellers served on the Vestry, assisted with stewardship campaigns and devoted much energy to our parish. So it was no surprise that Mr. and Mrs. Sellers' family and friends chose Christ Church as a recipient of memorial gifts made in their honor. Those gifts are now evident with the arrival of two new silver chalices.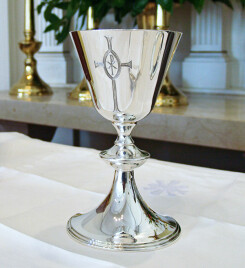 "With the addition of services in the Church over the years, the Altar Guild was feeling stretched at times," said Peggy Horne, former chair of the Altar Guild. "The memorial gifts given in honor of Mr. and Mrs. Sellers made it possible to commission the new chalices. It's such a wonderful way to honor the Sellers' legacy. Ann truly loved the Altar Guild at Christ Church. It was in her heart."

"I feel closest to my parents now when I'm at Christ Church," said Dan Sellers. "Not only because they are both interred there, but also because the Church is where I see their friends and hear the stories that mean so much. To see the memorial gifts put to good use … it helps carry on my parents' legacy of commitment to Christ Church."