We hope you'll consider making Christ Church your spiritual home.
Here at Christ Church, our goal is to love God, care for each other, and serve the world. Our spiritual home is a place to deepen our faith and connect with others, empowering us to go out into the world as Christ's hands and feet.
How to become a Member
Transfer of Membership
If you wish to transfer your membership from another church, please complete the Membership Information Form. Be sure to provide the name and address of the church where your membership is currently held. We will request the transfer, along with baptism and/or confirmation dates, and send you a letter of acknowledgement once the transfer is complete.
Baptism
The basic requirement for membership in any Episcopal Church is baptism. The Episcopal Church recognizes all Christian baptisms regardless of denomination. If you wish to be baptized at Christ Church, please contact Emily Skinner at or 704-714-6978, or visit this page for details.
Adult Confirmation
Confirmation is the laying on of hands by an Episcopal Bishop in a service of worship. Those confirmed in another Episcopal congregation may request to have their letter of membership transferred from the previous congregation. Those confirmed by a Bishop in the Catholic, Lutheran or Eastern Orthodox Church may be received by an Episcopal Bishop in a worship service.
Christ Church offers a ten-week Adult Confirmation and Inquirers Class on Sunday mornings, beginning in January or February of each year. These classes are for any adult who wishes to be confirmed in the Episcopal Church, for any confirmed Episcopalian who wishes to learn the basics of faith, and for anyone who simply wants to explore what we believe. The classes explore the basics of Christianity and the Episcopal Church. Registration is required. The annual confirmation service with one of our Bishops usually takes place in the late spring or early summer. For more information, visit this page or contact Adult Formation,
Eighth Grade Confirmation
Our eighth grade students typically participate in confirmation classes as a group beginning each fall. For more information, contact Maggie Baker at or 704-714-6975.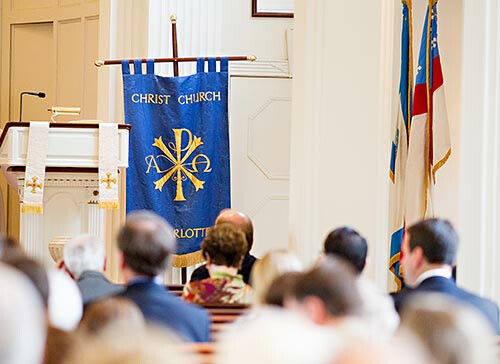 Want More Information?
If you are seeking a church and have never been on our campus before, or if you're new to the church and would like to know more about us, we invite you to fill out this Newcomer Interest Form so that we may personally welcome you, answer your questions, and help you navigate to classrooms, nursery, or other locations on campus.