Pancake Supper with a Mardi Gras Twist!
Shrove Tuesday, February 21, 2023
5:30 pm - Gather in the Circle for the Burning of the Palms, burying the Alleluias, and a short Mardi Gras Parade.

6 - 7:30 pm - Join us for a Pancake Supper and crafts for the kids in All Saints' Hall, with additional seating in the Blue Room. RSVP below to register and prepay for dinner. Pick up dinner tickets at the check-in table in the Circle.
Menu: Pancakes, bacon, cheesy grits, applesauce, chicken jambalaya with rice, kale and red bean soup, salad, and dessert.
Want to Volunteer? Click here to help with serving food, drinks, etc. We would love your help!
Questions? Contact Kathryn Saunders at .
The Hospitality Committee wishes you a festive and joyful Shrove Tuesday, followed by a meaningful
and hopeful Lenten journey. We hope you can join us for this celebratory tradition!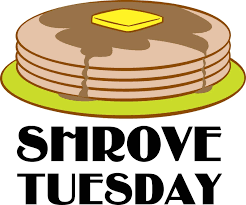 THE HISTORY OF SHROVE TUESDAY
Shrove Tuesday signals the end of Epiphany on the church calendar. It comes the day before Ash Wednesday. This day is also called Fat Tuesday and Pancake Day. In Germany and German American areas of the United States, it is known as Fastnacht Day. In France it is called Mardi Gras which means Fat Tuesday.

The word shrove is the past tense of the word shrive, meaning to confess and seek forgiveness. Many Christian observe Shrove Tuesday and often host pancake suppers as a way to recognize the day. Eating pancakes on this day is believed to have come about as a way to use up butter, eggs, milk, and fat in preparation for fasting during Lent.

Gathering for fun to eat pancakes and all things fattening on Shrove Tuesday has been a Christian tradition since the 16th century. It combines repentance and preparing for the Lenten season with a festive spirit. On Pancake Day in England, pancake races are held in towns across the country. A story is told that the custom
of pancake races began when a woman was so busy making pancakes that she forgot all about the church service until she heard the church bells ringing. She ran out of her house with the pan still flipping pancakes! As a result, many towns and villages still signal the beginning of their pancake race by ringing a bell.

Shrove Tuesday serves as a reminder we are about to enter the season of Lent and prepares all Christians for a time of reflection and spiritual renewal. It is traditional to reflect on what type of fasting one may do during Lent.

PRAYER FOR SHROVE TUESDAY
God of feasting and fasting,
we give you thanks
for the richness of life.
Bless us as we celebrate the joy
of being your beloved people.
Send your Spirit to dance
and sing with us.
As we enter the Season of Lent,
may it, too, be a celebration of life:
of an inward journey of contemplation and wondering,
of learning and exploring.
And in all of this,
may we grow closer to Jesus,
to one another, and to you.
This we ask in Jesus' name. Amen.

Music to Enjoy: