We believe housing is a basic human right.
Every person, whether housed or without housing, is a precious child of God. We walk alongside our neighbors, whether chronically homeless men and women or working poor families, to help bridge the gap between homelessness and housed.
Habitat for Humanity
Habitat for Humanity brings individuals and communities together to build decent, affordable housing. In 1983, Christ Church joined with six other churches to establish Habitat for Humanity of Charlotte. This program is dedicated not only to the building of homes, but also to the uplifting of people and communities. Our parish has built one home every February through May since the inception of Habitat. Our support each year also allows for a Habitat house to be built in El Salvador. Over 110 volunteers help with Habitat construction and lunches. LEARN MORE »
Charlotte Family Housing (CFH)
This shelter-to-housing program responds to the immediate need of homelessness by sheltering working, homeless families and helping them forge a path back to housing. CFH then works alongside these families in the areas of financial self-reliance, careers, education, support networks, as well as health and wellness. The goal of this multifaceted approach is self-sufficiency for each family. LEARN MORE »
Men's Shelter of Charlotte (Roof Above)
The Men's Shelter is an emergency shelter for adult men with two locations (Tryon Street campus and Statesville Avenue campus). In addition to meeting the basic needs of shelter, clothing, showers, and meals, the Men's Shelter also works alongside the men to identify sources of income and available housing so that the men may move from homelessness to housed. Of the 600,000 meals served in a year at the Men's Shelter, Christ Church serves 12,000.
In-person volunteer opportunities are back! Find volunteer details here
Room in the Inn (Roof above)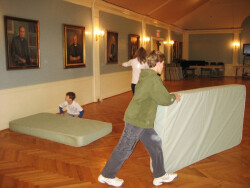 Christ Church, along with over 100 churches and organizations, provides emergency winter shelter for 12 homeless "neighbors" (homeless men, women, children, and/or families) every Sunday, December to March. Parishioners host our neighbors by assisting with bed set-up; picking up neighbors; making, serving, and sharing dinner with neighbors; serving as overnight hosts; and making sack lunches. We offer hospitality to those who have no place to call home. This is a great volunteer opportunity for families, especially for those with young children. Find volunteer details here »
Other Partnerships
YWCA: Families Together offers homeless families onsite access to a range of services, including childcare, counseling, and job training. Participants work and pay a portion of their rent as they work towards self-sufficiency. Christ Church provided seed money for this program which now provides transitional housing for 10 families. You can donate professional services such as computer services, financial planning, or dentistry. Help organize special outings for participants such as trips to the grocery or bowling.
YWCA: Women in Transition Program - Safe and affordable housing, along with intensive special services, support over 100 single women who are at risk of being homeless each year. The program operates at the YWCA on Park Road. Women work and pay part of their living expenses until they reach self-sufficiency (which happens after an average of two years).
Safe Alliance - provides hope and healing to those impacted by domestic violence and sexual assault.
Supportive Housing Communities - provides affordable housing to alleviate homelessness and human suffering.
The Relatives - The Relatives is a system of resources that helps children and youth find shelter and support. Their programs Youth Crisis Center, On Ramp Resource Center, and Housing programs keep kids safe and families together. The goal of each program The Relatives offers is to keep kids safe and families together. They believe every child deserves a safe place to sleep and a fighting chance to make it.
Southminster - Southminster is a non-profit, charitable community that embraces the individual by fostering a quality of life characterized by choice, independence, well-being, spirituality, dignity, privacy, and peace of mind for each person.