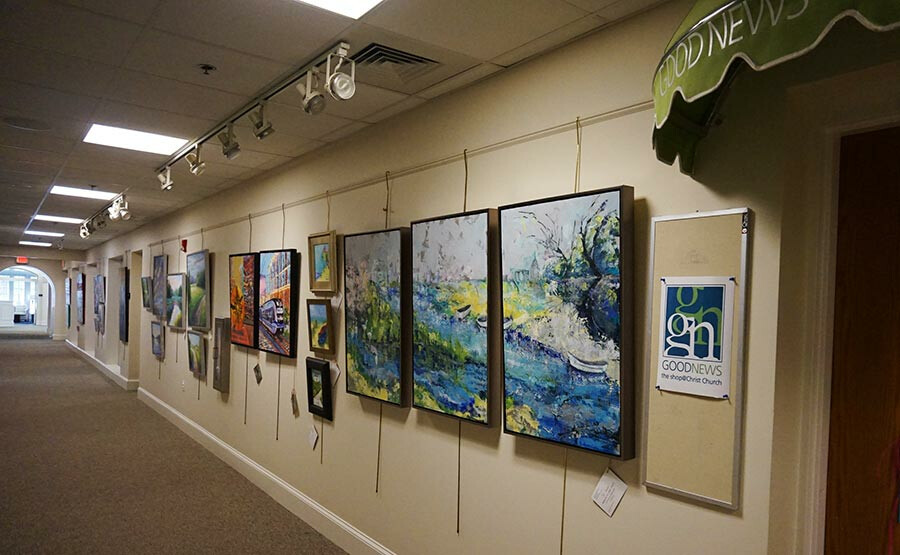 Christ Church Gallery
The idea for Christ Church Gallery began in the early 1990's when Jo Rankin saw an art exhibit at Coventry Cathedral in England. She later presented the idea to Henry Parsley, who immediately said "Let's start the gallery!" Over the years, the gallery has grown and improved. (Jo still remembers struggling to hang the art on chains attached to the cinder block walls.)
Today, a new group of local artists arrive each month with their work. The media are varied, and have included pencil, pastel, watercolor, oil, and even collage. The works are sold through the GoodNews Shop, with 30% of the sale price going to mission funding. For more information, contact Margaret Salisbury at or Murray Parker at .
Last year the Gallery and the GoodNews "Artist of the Month" program contributed almost $9,000 to our mission funds. The next time you are considering a painting, remember that any purchase will be a benefit to you and also to good causes in our community.
2018 Exhibits
February: Joana Wardell, Anne Cowie, Jane Gilbert, Janice Mueller, Karen Trigg, Philip Sciabarrasi
March: Cheryl Healy, James Norman, Lindsay Jones, Trudi Norris
April: Painted Group (Theme: "Charlotte")
May: Kathy Collins, Betsy Gefaell, Diane Virkler, Sally Weller
June: Guild of Charlotte Artists
July: Golden Palette Society
August /September: Sandy Wilkinson, Anne Harkness, Nancy Holmes, Julia Ann Eleazer
October: Michele Morrice, Sharon Schwenk, Bennett Waters, Stephany Templeton
Your art purchases help fund the missions supported by ECW and GoodNews.