We believe that faith practiced as a family provides a steadfast base for children and teens.
We want to equip, empower, and engage families to be the church in the world. We do that by providing opportunities for families to come together to talk about their faith and help all members of the family find a place in their spiritual home.
---
Parenting with Faith and Wellness
Sundays (see dates below) at 10 am in M207
Parents with children of all ages are invited to gather with other parents to learn and grow together as faith leaders for our families. This adult Sunday School class is designed to encourage, support, and empower parents. Topics and conversations will vary; come as often as you like. All are welcome to participate.
Winter/Spring 2022 Schedule (first Sunday of the month)
February 6 - Mental Health of Parenting in a Pandemic - Pandemic Parenting Burnout Handout


March 6 - Creating Sacred Rhythms With Your Family




April 3 - How Do I Talk to My Children About the News? The headlines are full of bad news, scary events, and anxiety-inducing possibilities for the future. The Reverend Connor Gwin will lead a conversation about becoming "news resilient" as a family and share faithful ways to talk to children about the state of the world without despair.

Watch for more Parenting with Faith and Wellness classes this fall.
---
EPEC (Exceptional Parents of Exceptional Children)
Fourth Sundays at 10 am in M207, beginning March
Parents of children with special needs, disabilities, learning differences, or developmental delays are invited to join us for education and support. Topics and leaders will vary. The gatherings are meant to create a safe space for parents to learn, discuss their experiences, share ideas, and provide spiritual, mental, and emotional support to one another. Learn more about EPEC here »
March 27 - Education focus. Ashley Etheridge from Dandelion Family Counseling will share about neurodiversity, anxiety, and the healing power of art.


April 24 - Support focus, led by guardians
---
Table Talks Podcast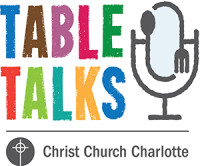 Table Talks is a great opportunity for families to dig into questions about faith together. In each episode, Lindsay Masi and Maggie Baker will introduce a new topic or Bible story and pose relevant and thought-provoking questions. We invite families to listen and discuss together.
---
Want to start the conversation about race with your children?